Preventive Systems Monitoring

Preventive healthcare for your computer system
What is Preventive Systems Monitoring (PSM)?
Preventive Systems Monitoring is a suite of enterprise-class sensors that are deployed onto a computer system that observe data vital to the health of your network connected devices.
‌
‌Data such as temperatures, component utilization, security updates and data backup integrity are monitored 24/7 to ensure they are well-within normal operational ranges.
‌
‌Essentially, PSM is a system put in place to ensure your computer system stays in top shape and your data stays safe.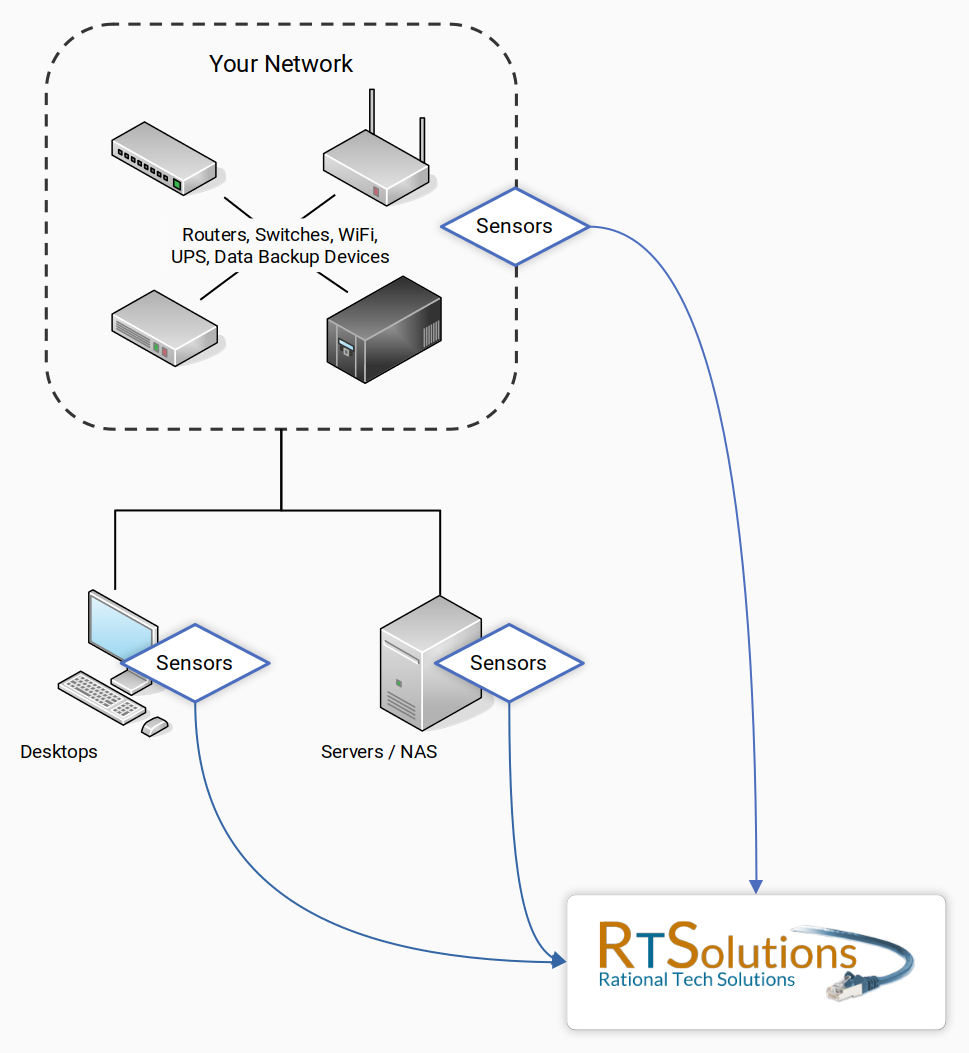 How can your business benefit from PSM?
Preventing data loss, down time and potential catastrophic disasters

Less Downtime

The monitoring of essential components within your computer network enables proactive detection of potential problems that may lead to costly downtime. If a problem is caught early,  potential downtime may be greatly reduced.

Keeping Your Data Safe

By monitoring data storage devices and backup systems, problems such as hard disk failure can be easily detected and appropriate actions taken before a complete loss of data occurs.
Prevent Potential Disasters
Monitoring your system can decrease and often prevent potential disasters such as a complete failure of a critical system that is essential to your daily business operations.

Your computer system is fitted with a variety of sensors. These sensors will observe vital information such as CPU temperature, remaining hard disk space or when your data was last backed up. This information is then analyzed in our monitoring system on a 24/7 basis. With this data we can determine the overall health of your system as well as the functioning health of each individual component.
24/7 Monitoring

Our system constantly monitor sensor data of your system to ensure the values are within proper operational range.
Detection

When data from a sensor goes outside normal operational range this is detected and our team is notified immediately.

Investigation
Once our team receives notification, an investigative process will promptly begin to determine the cause and potential problems that could be arising.
Communication
After an in-depth assessment by our team into the issue, the client is contacted to discuss the next step in resolving the problem before it potentially worsens.

Resolve

Once a solution is agreed upon, implementation of the solution begins in order to ensure a smooth recovery.
System Vitals

Monitoring of essential vitals that keep your computer system running such as temperature, fan speeds, and hard disk health.
Security & Network

Monitoring of key security items such as latest operating system and anti-malware updates to ensure your computer system is secure from threats.
Data Integrity
Monitoring of your data storage and backup systems to ensure your data is safe and is being backed up on a regular basis.
Temperatures
Monitoring a variety of temperature sensitive components such as CPU, RAM, and hard disks ensuring their temperatures are well within normal operating range.
Security Updates
I's essential to have the latest security updates for your system to ensure protection from potential security threats. This monitor will check to make sure the latest updates are applied to your system.

Storage Space
Monitoring of available space on your storage devices ensuring you have enough free space to store important backups or valuable data.
Cooling

Complementing temperature monitoring these sensors will monitor your cooling systems such as fan speed to ensure your devices are being properly cooled.
Antivirus Updates

Having the latest security updates isn't enough. It is also essential that your malware protection systems are up to date with an active subscription and the latest detection definitions. This monitor will check to make sure these systems always meet these requirements.

Backup Integrity

These checks make sure backups are being completed and are passing data integrity checks ensuring your backups are 100% and ready if in the event future data recovery is required.

Resource Utilization
A system running at it's max will cause slow and sluggish performance. By monitoring the utilization of computational components we can determine potential bottle necks and slow downs in critical systems.

Network Vitals

In today's offices the network is the backbone of your computer system. Measuring critical network attributes such as bandwidth speeds, ping, jitter and packet loss can help pinpoint local network and internet slow downs keeping your business operations online and running efficiently.

Storage Health

Monitoring of critical hard disk vitals such as RAID integrity in your server or S.M.A.R.T. disk status in a workstation to detect potentially failing hard disks.

Power

Monitoring of your PSU (power supply unit) or connected UPS (uninterruptible power supply or backup power supply) to ensure various factors such as power voltages, battery health and temperatures are all within normal operating parameters.
Ready to take the next step in safe guarding your data?
Monthly, quarterly and annual plans available.
‌Contact us for a quote and details.